Data that can be imported is as follows:
Users for a Client
Departments for a Client
Addresses for a Client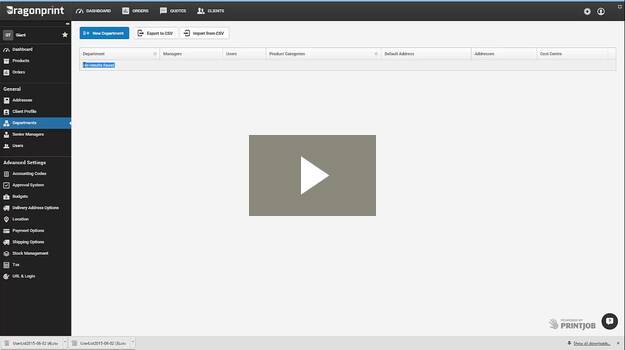 Notes:
The unique identifier for each row of data is as follows
User – Email
Department – Department Name
Address – System ID (incremental number starting at 1)
The unique identifier must be present on each row, unless you are adding new addresses, which should have the ID as empty. If you are editing an existing address record, you will need to give the correct ID, which can only be seen by exporting the CSV from the PJ system first.
If you import a user row with an email already in the system, it will update the existing user with the new data on that row (in the CSV). If you want to change someones email address, you will need to edit their record on the system (not via import) manually.
Addresses can only be updated and installed on the target client accounts, and not across different accounts at once.
Country Codes can be found here. We're using codes because the system is multilingual, and to avoid listing all translations of a country name, we store the code. This way when someone chooses French as their language choice, the Country List which is hardcoded can be present in french, as per Royaume Uni & Etas Unis (UK and USA)
Uploading Method
Export the Users to download the CSV and see the format.
Open this CSV file in Google Spreadsheets, Open Office Calc, or Microsoft Excel
Transfer your data into this file and resave OR
Mimic the format of the columns in your new CSV file
Export/Save your CSV making sure that

Its COMMA separated (and not ; separated)
Its encoded with UTF8 or similar (Western European might also work)
In Excel 2016
Note: In Excel 2016 there are several options when you choose Save as
CSV UTF Comma delimited,
CSV comma delimited
CSV Macintosh
CSV MS-DOS
In this case you would choose CSV UTF Comma delimited